Xbox One S 1TB Console + 2 Games
Xbox One | Console Hardware
MA15+ - Not suitable for people under 15
Product overview
Contains:
Xbox One S console
1TB hard drive (internal)
Xbox Wireless Controller with 3.5mm headset jack
HDMI cable
AC power cable
Forza Horizon 3 Download Code (46.34GB download size, internet access required)
Tom Clancy's Ghost Recon: Wildlands

Sleeker. Slimmer. Sharper.
40% smaller. 1TB of storage. Internal power supply.
Play the greatest games lineup, including Xbox 360 classics, on a 40% smaller console. Just don't let its size fool you: with an internal power supply and up to 1TB of internal storage, the Xbox One S is the most advanced Xbox ever.

High Dynamic Range
Experience richer, more luminous colors in games like Gears of War 4 and Forza Horizon 3. With a higher contrast ratio between lights and darks, High Dynamic Range technology brings out the true visual depth of your games.
4k Ultra HD
With four times the resolution of standard HD 4k Ultra HD delivers the clearest, most realistic video possible. Stream 4k content on Netflix and Amazon Instant Video and watch Ultra HD Blu-rayTM movies in stunning visual fidelity with High Dynamic Range.
Xbox Wireless Controller
The new Xbox Wireless Controller features a sleek, streamlined design, textured grip, and Bluetooth for gaming on Windows 10 devices. Enjoy custom button mapping and improved wireless range, and plug in any compatible headset with the 3.5mm stereo headset jack.
IR Blaster
Configure your Xbox One S to turn on other devices, like your TV, audio/video receiver, and cable/satellite receiver. Whether you're playing a game or watching a movie, the integrated IR blaster will get you to the action faster, allowing you to leave your remotes behind.
Ultimate Entertainment
With a huge selection of games as well as access to over 200 apps including Netflix, Stan, Skype and Live TV, the Xbox One is the ultimate entertainment system.
Forza Horizion 3
You're in charge of the Horizon Festival. Customize everything, hire and fire your friends, and explore Australia in over 350 of the world's greatest cars. Make your Horizon the ultimate celebration of cars, music, and freedom of the open road. How you get there is up to you.
Explore the Horizon Festival's Largest Open World in an incredible selection of over 350 of the world's greatest cars all in stunning ForzaVista™ detail.
Be the Boss of Your Horizon Festival.
With the new Horizon Blueprint feature, you have the power to create and instantly share your custom gameplay. You can even hire friends to star in your festival and win you more fans. If they're not winning you fans, fire them!
Discover Thrilling New Driving Gameplay like Danger Sign Jumps, Convoys, Drift Zones, and Showcase events that pit you and against a fleet of speedboats, a giant zeppelin, and more.
Personalize Everything.
Select your own driver character, customize your cars, create vanity license plates – even choose your own horn sound. Drive to the music you love choosing from eight diverse radio stations, or create a custom station using your own music collection.
Start an Online Co-op Driving Adventure.
In addition to 12-player online free roam and multiplayer racing, all-new 4-player online co-op allows you and your friends to enjoy the variety, competition, and rewards of a Horizon campaign together for the first time.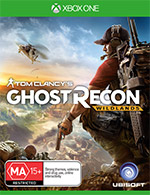 Tom Clancy's Ghost Recon: Wildlands
Bolivia, a few years from now...
This beautiful South American country has become the largest cocaine producer in the world. The influential and vicious Santa Blanca drug cartel has turned the country into a narco-state, leading to lawlessness, fear, injustice, and violence. The cartel is on track to becoming a major underworld power and global threat.
An all-out war is not the answer. A surgical, stealthy, lethal approach is the only way to stop the disease at its source. The Ghosts, an elite US Special Forces team, are sent behind enemy lines to wreak havoc, destabilise, and eventually break the alliance between the cartel and the corrupted government.
Facing an almighty enemy in a massive and hostile environment, the Ghosts will need to make critical moral choices and engage in tough battles to complete their mission – their grittiest and most dangerous operation to date.
Features:
Tom Clancy's Ghost Recon® Wildlands is the very first military shooter in a massive, dangerous, and responsive open world that you can play entirely solo or in four-player co-op.
BIENVENIDOS A BOLIVIA: From the infamous Death Road to the world's largest salt flat, journey through Ubisoft's largest open world actionadventure game to date. Discover massive regions inspired by Bolivia and South America, their stunning vistas and incredible diversity. Explore the hundreds of villages, landmarks, and legends populating this country in one of the many available vehicles, both on and off road, in the air, on land, and at sea. Immerse yourself in Bolivian culture as you cross paths with inhabitants reacting to their own agendas and to the game's day-night cycle and weather system.
BECOME A GHOST: Lead a team of four Ghosts, the absolute best of the US military. Play either solo or with up to three of your friends online in this gritty adventure as they seamlessly join you at any point in the game. Engage all your military missions in whatever order and manner suits you: stealth, distraction, and tactical or frontal assault always remain possible. Use the new iconic drones to recon the toughest terrains and to tag enemy outposts, or transform them into destructive weapons. Make difficult but critical choices: sabotage, interrogation, kidnapping, and assassination are but a few of the options available for you to reach your objectives. Upgrade and fully customize your Ghost with the experience and loot you gather on the battleground.
MANIPULATE AND FACE THE CONSEQUENCES: Interact with different factions in the game: gather intel from the Santa Blanca cartel, bribe the aggressive Unidad military force, benefit from the local rebels' resources, or protect the native population. Start inter-faction battles to cause distractions and help you reach your objectives. The world will react differently to each of your choices: unexpected opportunities and threats could arise from any situation, turning into long-lasting and dire consequences. Manipulate the system. Manipulate the unexpected.