New-Look PlayStation 4 500GB White Console + 3 Games
PlayStation 4 | Console Hardware
R18+ - Restricted to 18 years and over
Others also bought
Product overview
This bundle contains:
New-Look 500GB PlayStation 4 Glacier White Console

White DualShock 4 controller
500GB Hard Drive
**Vertical Stand not included**

Doom
Dishonored 2
Deformers

The new look, slimmer PlayStation 4
Experience incredibly vivid, vibrant colours with breathtaking HDR visuals.
Organise your games and apps and share with friends from a new, intuitive interface.
Store your games, apps, screenshots and videos with 500GB.
All the greatest TV, movies and more from your favourite entertainment apps.
Play. Redesigned.
Experience a sleeker, smaller PS4, delivering awesome gaming power that's always for the players.
DualShock 4 - Unparalled Control
The DUALSHOCK 4 wireless controller has been updated with a new look and feel, including a more visible, colourful light bar to put even more of the game into your hands. It's the most ergonomic, intuitive PlayStation controller ever designed.
The greatest games are on PS4
Whether you play on PS4 or PS4 Pro, the biggest blockbusters, incredible PlayStation exclusives and most immersive games are waiting for you.
The most connected console
The freedom to play, share and socialise with your gaming world.
Share Play
Invite a friend to join your adventure, challenge them to multiplayer matches or let them take over and play for you - even if they don't own the game.
Remote Play
Stream games to your PC or Mac, PlayStation Vita or Sony Xperia device over your home WiFi network and never be tied to the TV again.
Stream your gameplay
Broadcast your adventures live to the world via Twitch, YouTube or DailyMotion.
Share in seconds
Share screenshots and videos of your greatest moments on Twitter and Facebook.
Connect with friends
Create parties, chat to friends or join gaming communities to find new players.
Take on the world
Forge allegiances, settle scores and play with friends and rivals online in your favourite game's online modes - exclusively with PlayStation Plus.
DOOM
Developed by id software, the studio that pioneered the first-person shooter genre and created multiplayer Deathmatch, DOOM returns as a brutally fun and challenging modern-day shooter experience. Relentless demons, impossibly destructive guns, and fast, fluid movement provide the foundation for intense, first-person combat – whether you're obliterating demon hordes through the depths of Hell in the single-player campaign, or competing against your friends in numerous multiplayer modes. Expand your gameplay experience using DOOM SnapMap game editor to easily create, play, and share your content with the world.
You've come here for a reason. The Union Aerospace Corporation's massive research facility on Mars is overwhelmed by fierce and powerful demons, and only one person stands between their world and ours. As the lone DOOM Marine, you've been activated to do one thing – kill them all.
A RELENTLESS CAMPAIGN
There is no taking cover or stopping to regenerate health as you beat back Hell's raging demon hordes. Combine your arsenal of futuristic and iconic guns, upgrades, movement and an advanced melee system to knock-down, slash, stomp, crush, and blow apart demons in creative and violent ways.
RETURN OF ID MULTIPLAYER
Dominate your opponents in DOOM's signature, fast-paced arena-style combat. In both classic and all-new game modes, annihilate your enemies utilizing your personal blend of skill, powerful weapons, vertical movement, and unique power-ups that allow you to play as a demon.
ENDLESS POSSIBILITIES
DOOM SnapMap – a powerful, but easy-to-use game and level editor – allows for limitless gameplay experiences on every platform. Without any previous experience or special expertise, any player can quickly and easily snap together and visually customize maps, add pre-defined or completely custom gameplay, and even edit game logic to create new modes. Instantly play your creation, share it with a friend, or make it available to players around the world – all in-game with the push of a button.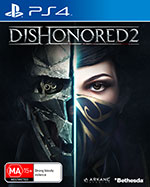 Dishonored 2
Reprise your role as a supernatural assassin in Dishonored 2 – the next chapter in the award-winning Dishonored saga by Arkane Studios. Play your way in a world where mysticism and industry collide. Will you choose to play as Empress Emily Kaldwin or the royal protector, Corvo Attano? Will you make your way through the game unseen, make full use of its brutal combat system, or use a blend of both? How will you combine your character's unique set of powers, weapons and gadgets to eliminate your enemies? The story responds to your choices, leading to intriguing outcomes, as you play through each of the game's hand-crafted missions.
THE STORY
Dishonored 2 is set 15 years after the Lord Regent has been vanquished and the dreaded Rat Plague has passed into history. An otherworldly usurper has seized Empress Emily Kaldwin's throne, leaving the fate of the Isles hanging in the balance. As Emily or Corvo, travel beyond the legendary streets of Dunwall to Karnaca, the once-dazzling coastal city that holds the keys to restoring Emily to power. Armed with the Mark of the Outsider and powerful new abilities, track down your enemies and take back what's rightfully yours.
THE ASSASSINS
As fully voiced characters, Emily Kaldwin and Corvo Attano now bring their own perspectives and emotional responses to the world and story. Use each character's set of powers, gadgets and uniquely-tuned weapons in creative ways as you explore the world – whether you fight your way through the city streets or sneak across the rooftops - and which enemies you decide to eliminate or spare.
SUPERNATURAL POWERS
Advanced bonecharm crafting and all-new upgrade trees allow you to customize your powers in vastly different ways. Become a living shadow to silently stalk your targets, link enemies so they share a common fate, or mesmerize your foes and dominate their minds. Choose from nearly infinite combinations of violence, nonlethal combat, powers and weapons to accomplish your objectives.
IMAGINATIVE WORLD
From the grimy, rat-infested streets of Dunwall to the lush, exotic coasts of a decaying Karnaca, immerse yourself in stylized locales created by Arkane's premiere art and narrative teams. The world is a character in its own right, rich with story, architecture and eclectic characters. It is also punctuated by signature mission locations, such as the Dust District, ravaged by dust storms and warring factions, and a madman's mansion made of shifting walls, deadly traps and clockwork soldiers.
CHALLENGE
Customize your gameplay options and difficulty settings for an even more tailored adventure. You can make the experience more challenging (or easier) by changing myriad parameters related to stealth, movement and combat.
THE VOID ENGINE
Dishonored 2 is beautifully brought to life with the new Void Engine, a leap forward in rendering technology, built from id Tech and highly-customized by Arkane Studios. Designed to support world-class art direction and take full advantage of the powerful hardware this generation has to offer, the Void Engine allows for significant advances to all game systems, including responsive stealth and combat Artificial Intelligence, lighting and graphical rendering, impressively dense urban environments, and story presentation.
Deformers
Conquer your opponents using Power-ups and your Form's ability to roll, jump, dash, shoot, throw, and defend.
Consume the remains of your defeated opponents and other objects in the world to become bigger and stronger.
All skill levels can jump in and enjoy the simple game mechanics.
Multiplayer options provide a social setting for a group of friends to compete and have a great time.
Compete in Social Combat. Games are better when bragging rights are part of the experience.
Prepare for an epic battle! Deformers is a fast and frantic multiplayer party game. Smash up your friends in couch co-op, or team up and fight against others online!
From the award-winning independent developer Ready at Dawn Studios, Deformers is a brand new, third-person smash 'em arena combat game featuring fast and frantic gameplay. With a focus on multiplayer and online connectivity, players control "Forms" as they battle each other in fast-paced melee combat for supremacy.
No Guts, No Glory!
Compete in a variety of game modes and dominate the competition!
Friend or Foe?
Team up to take down your enemies with online couch co-op or battle your buds in a free-for-all death match!
Aliens and Animals and Blobs, Oh My!
Choose from dozens of Forms that range from cute to crazy.
Forms on Fleek!
Customize your Form with new styles, tags, and emotes!
Roll Around the World!
Battle across arid deserts, decrepit ruins, and even under the big top!
A FORMidable Arsenal!
Ram, throw, and shoot your way to victory!
This Isn't Even My Final Form!
Power-ups help Forms get that extra edge – not approved by the FDA.