PlayStation 4 Pro 1TB Console + 3 Games + PS4 Universal Media Remote
PlayStation 4 | Console Hardware
R18+ - Restricted to 18 years and over
Others also bought
Product overview
This bundle contains:
PlayStation 4 Pro 1TB Console

Black DualShock 4 controller
1TB Hard Drive
**Vertical Stand not included**

PlayStation 4 Universal Media Remote
DOOM
Dishonored 2
Elder Scrolls Online: Morrowind (online game - requires internet connection to play)
Introducing the super-charged PS4.
PlayStation®4 Pro is a high-spec console that delivers the ultimate gaming and entertainment experience with spectacular graphics and unrivalled power.
Put simply, this is the most powerful console ever made *1:
Spectacular graphics – if you own a 4K TV, get ready for higher quality visuals, including resolutions of up to 4K*2. No 4K TV? You can still enjoy gameplay and frame rate enhancements on your standard HD TV with PS4™ Pro.
Ultimate performance – PS4™ Pro packs more than double the GPU power of a standard console and a beefed-up CPU to give you an incredible combination of graphical prowess and processing muscle*3.
Extraordinary entertainment – watch video streaming services in amazing 4K*4. Check out the Netflix app which allows you to stream 4K movies and shows like Narcos and Luke Cage. There's also a 4K compatible YouTube app coming soon to PS4™ Pro.
Enhanced gameplay – enjoy fast, more stable frame rates*5 for smooth, super-sharp on-screen action.
Ultimate Share Play and Remote Play – share or stream your games in stunning detail with visuals of up to 1080p and 60fps.
More connections – choose between 2.4GHz and 5GHz Wi-Fi modes and output to your TV via HDMI 2.0. There's also an extra USB 3.0 port.
High Dynamic Range (HDR) – this advanced new technology means visuals are more realistic, vivid and truer to what the human eye sees in the real world*6.
*1 When compared with other games consoles on the market at time of launch.*2 Outputted by graphic rendering or upscaled.*3 When compared to previous PS4™ model. *4 Not supported by all video services available for PS4™. *5 Not supported by all software titles. *6 HDR TV plus game or video streaming service with HDR support required.
Spectacular gaming and entertainment
Intensely vibrant gameplay, stunningly sharp movies and incredible detail in every moment.
Super-charged power
PS4 Pro packs in leading-edge technology to deliver the fastest, sharpest, most responsive gaming experiences ever seen*.

Power
Games explode into life with intense graphics and incredibly lifelike details thanks to increased power under the hood.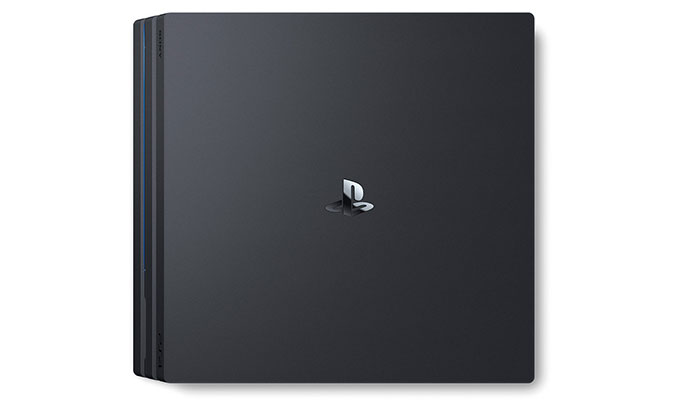 Speed
Action becomes faster, smoother and more explosive with crystal-clear movement from faster and more stable frame rates.
Next level gaming
With a 4K TV, PS4 games deliver unprecedented visual precision, such as 4K quality resolution to give remarkable clarity down to the tiniest detail*. Alongside stunningly vibrant HDR colours, your adventures will burst into life with unbelievable vibrancy.

Incredible entertainment
Stream the biggest movies, hottest TV shows and latest videos in up to stunning 4K resolution* from Netflix, YouTube and a host of entertainment apps coming soon – all with auto-upscaling for the sharpest picture possible.
Greater connectivity
Seamlessly connect and share to your gaming worlds.
*4K TV required. Outputted by graphic rendering or upscaled.
*When compared with other games consoles on the market at time of launch.
Enjoy a convenient and intuitive way to navigate and control your favorite PS4 entertainment Apps and Blu-Ray Disc player right from your couch. The remote uses Bluetooth to control your PS4™ system and can also be setup to control up to three additional devices, including a TV, set top box and audio receiver.
Intuitive Control: Enjoy a convenient way to navigate and control your PlayStation® 4 system with ease.
Command up to Four Devices: Control your PS4™ system and up to three additional devices, including a TV, set top box and audio receiver.
Connects via Bluetooth: Uses Bluetooth to control your PS4™ system.
Dedicated PS4 Buttons: Includes the most important buttons for navigating system menus and apps including the Action buttons (triangle, circle, cross, and square), Share, Options, and PS buttons.
App Control: Endless entertainment with ease! Control your PS4™ and up to three additional devices, while accessing:
Netflix
Stan
SBS On Demand
ABC iView
AnimeLab
Crunchyroll
YouTube
PlayStation Video
Blu-ray Disc Player
Media Player
And More…

The Elder Scrolls Online: Morrowind
A NEW ELDER SCROLLS CHAPTER FOR EVERYONE
The Elder Scrolls Online: Morrowind redefines the traditional MMO expansion by delivering vast new content and features that are equally accessible and fun for both existing and new ESO players.
New Players: New players can jump into The Elder Scrolls Online: Morrowind and start a new character without having to complete any previous ESO content. And, since the original ESO game is included with The Elder Scrolls Online: Morrowind, new players will have instant access to hundreds of hours of additional adventures throughout Tamriel.
Existing Players: ESO veterans will be able to upgrade and immediately journey to Vvardenfell to start the new epic adventure. With the power of October's One Tamriel update, existing players will find level-appropriate content from the moment they step onto the island of Vvardenfell, regardless of level. Existing players can also choose to create a new character and begin anew.
Haven't played ESO in a while? The Elder Scrolls Online: Morrowind is a great chance to jump back in with your existing characters, or with a completely new one. Because ESO has no required subscription, you can just reinstall the game, log in, and start playing again.
RETURN TO MORROWIND
Vvardenfell is the largest zone added to The Elder Scrolls Online since launch and utilizes the same geographic footprint as The Elder Scrolls III, including all key points of interest from the classic game. Players will embark on a dangerous journey through legendary locales in Vvardenfell, 700 years before the events of The Elder Scrolls III, from the docks of Seyda Neen, to the volcanic Ashlands, to dense, mushroom-filled forests, and through the glory of Vivec City, still under construction in this time period.
NEW CLASS – THE WARDEN
Players will harness nature-based magic to master the powerful new character class - The Warden. The Warden is the first new class since launch of ESO and true to ESO and the Elder Scrolls franchise, the player will have the freedom to select from a number of abilities that enable a variety of play styles. The Warden also introduces a devastating new combat ally – the War Bear – a ferocious fighter will stay by the Warden's side through the most intense battles.
AN INCREDIBLE ELDER SCROLLS STORY
Set roughly 700 years prior to the events of The Elder Scrolls III, The Elder Scrolls Online: Morrowind will take gamers on a sweeping adventure through the legendary Vvardenfell, featuring iconic locations, characters, and storylines that will instill nostalgia with longtime Elder Scrolls fans and extend ESO's narrative into a new chapter. Morrowind is in dire peril and it's up to player heroes to help Vivec, the legendary warrior-poet and Guardian of Vvardenfell, solve the mystery of his mysterious illness, regain his strength – and save the world from ultimate destruction.
NEW PvP MODE -- BATTLEGROUNDS
The Elder Scrolls Online is renowned for open world PvP battles, pitting hundreds of players in a massive battle for supremacy in Cyrodiil. The Elder Scrolls Online: Morrowind will introduce a new PvP mode – Battlegrounds – intense 4v4v4 battles in arena-like environments. Players take the battle to the Ashlands to claim their place among the fiercest and most accomplished combat veterans in Tamriel.
Developed by id software, the studio that pioneered the first-person shooter genre and created multiplayer Deathmatch, DOOM returns as a brutally fun and challenging modern-day shooter experience. Relentless demons, impossibly destructive guns, and fast, fluid movement provide the foundation for intense, first-person combat – whether you're obliterating demon hordes through the depths of Hell in the single-player campaign, or competing against your friends in numerous multiplayer modes. Expand your gameplay experience using DOOM SnapMap game editor to easily create, play, and share your content with the world.
You've come here for a reason. The Union Aerospace Corporation's massive research facility on Mars is overwhelmed by fierce and powerful demons, and only one person stands between their world and ours. As the lone DOOM Marine, you've been activated to do one thing – kill them all.
A RELENTLESS CAMPAIGN
There is no taking cover or stopping to regenerate health as you beat back Hell's raging demon hordes. Combine your arsenal of futuristic and iconic guns, upgrades, movement and an advanced melee system to knock-down, slash, stomp, crush, and blow apart demons in creative and violent ways.
RETURN OF ID MULTIPLAYER
Dominate your opponents in DOOM's signature, fast-paced arena-style combat. In both classic and all-new game modes, annihilate your enemies utilizing your personal blend of skill, powerful weapons, vertical movement, and unique power-ups that allow you to play as a demon.
ENDLESS POSSIBILITIES
DOOM SnapMap – a powerful, but easy-to-use game and level editor – allows for limitless gameplay experiences on every platform. Without any previous experience or special expertise, any player can quickly and easily snap together and visually customize maps, add pre-defined or completely custom gameplay, and even edit game logic to create new modes. Instantly play your creation, share it with a friend, or make it available to players around the world – all in-game with the push of a button.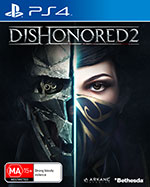 Dishonored 2
Reprise your role as a supernatural assassin in Dishonored 2 – the next chapter in the award-winning Dishonored saga by Arkane Studios. Play your way in a world where mysticism and industry collide. Will you choose to play as Empress Emily Kaldwin or the royal protector, Corvo Attano? Will you make your way through the game unseen, make full use of its brutal combat system, or use a blend of both? How will you combine your character's unique set of powers, weapons and gadgets to eliminate your enemies? The story responds to your choices, leading to intriguing outcomes, as you play through each of the game's hand-crafted missions.
THE STORY
Dishonored 2 is set 15 years after the Lord Regent has been vanquished and the dreaded Rat Plague has passed into history. An otherworldly usurper has seized Empress Emily Kaldwin's throne, leaving the fate of the Isles hanging in the balance. As Emily or Corvo, travel beyond the legendary streets of Dunwall to Karnaca, the once-dazzling coastal city that holds the keys to restoring Emily to power. Armed with the Mark of the Outsider and powerful new abilities, track down your enemies and take back what's rightfully yours.
THE ASSASSINS
As fully voiced characters, Emily Kaldwin and Corvo Attano now bring their own perspectives and emotional responses to the world and story. Use each character's set of powers, gadgets and uniquely-tuned weapons in creative ways as you explore the world – whether you fight your way through the city streets or sneak across the rooftops - and which enemies you decide to eliminate or spare.
SUPERNATURAL POWERS
Advanced bonecharm crafting and all-new upgrade trees allow you to customize your powers in vastly different ways. Become a living shadow to silently stalk your targets, link enemies so they share a common fate, or mesmerize your foes and dominate their minds. Choose from nearly infinite combinations of violence, nonlethal combat, powers and weapons to accomplish your objectives.
IMAGINATIVE WORLD
From the grimy, rat-infested streets of Dunwall to the lush, exotic coasts of a decaying Karnaca, immerse yourself in stylized locales created by Arkane's premiere art and narrative teams. The world is a character in its own right, rich with story, architecture and eclectic characters. It is also punctuated by signature mission locations, such as the Dust District, ravaged by dust storms and warring factions, and a madman's mansion made of shifting walls, deadly traps and clockwork soldiers.
CHALLENGE
Customize your gameplay options and difficulty settings for an even more tailored adventure. You can make the experience more challenging (or easier) by changing myriad parameters related to stealth, movement and combat.
THE VOID ENGINE
Dishonored 2 is beautifully brought to life with the new Void Engine, a leap forward in rendering technology, built from id Tech and highly-customized by Arkane Studios. Designed to support world-class art direction and take full advantage of the powerful hardware this generation has to offer, the Void Engine allows for significant advances to all game systems, including responsive stealth and combat Artificial Intelligence, lighting and graphical rendering, impressively dense urban environments, and story presentation.