PlayStation 4 Pro 1TB Console + 2 Games
PlayStation 4 | Console Hardware
MA15+ - Not suitable for people under 15
Others also bought
Product overview
This bundle contains:
PlayStation 4 Pro 1TB Console Console

Black DualShock 4 controller
1TB Hard Drive
**Vertical Stand not included**

Tom Clancy's Ghost Recon: Wildlands
Horizon: Zero Dawn
Introducing the super-charged PS4.
PlayStation®4 Pro is a high-spec console that delivers the ultimate gaming and entertainment experience with spectacular graphics and unrivalled power.
Put simply, this is the most powerful console ever made *1:
Spectacular graphics – if you own a 4K TV, get ready for higher quality visuals, including resolutions of up to 4K*2. No 4K TV? You can still enjoy gameplay and frame rate enhancements on your standard HD TV with PS4™ Pro.
Ultimate performance – PS4™ Pro packs more than double the GPU power of a standard console and a beefed-up CPU to give you an incredible combination of graphical prowess and processing muscle*3.
Extraordinary entertainment – watch video streaming services in amazing 4K*4. Check out the Netflix app which allows you to stream 4K movies and shows like Narcos and Luke Cage. There's also a 4K compatible YouTube app coming soon to PS4™ Pro.
Enhanced gameplay – enjoy fast, more stable frame rates*5 for smooth, super-sharp on-screen action.
Ultimate Share Play and Remote Play – share or stream your games in stunning detail with visuals of up to 1080p and 60fps.
More connections – choose between 2.4GHz and 5GHz Wi-Fi modes and output to your TV via HDMI 2.0. There's also an extra USB 3.0 port.
High Dynamic Range (HDR) – this advanced new technology means visuals are more realistic, vivid and truer to what the human eye sees in the real world*6.
*1 When compared with other games consoles on the market at time of launch.*2 Outputted by graphic rendering or upscaled.*3 When compared to previous PS4™ model. *4 Not supported by all video services available for PS4™. *5 Not supported by all software titles. *6 HDR TV plus game or video streaming service with HDR support required.
Spectacular gaming and entertainment
Intensely vibrant gameplay, stunningly sharp movies and incredible detail in every moment.
Super-charged power
PS4 Pro packs in leading-edge technology to deliver the fastest, sharpest, most responsive gaming experiences ever seen*.

Power
Games explode into life with intense graphics and incredibly lifelike details thanks to increased power under the hood.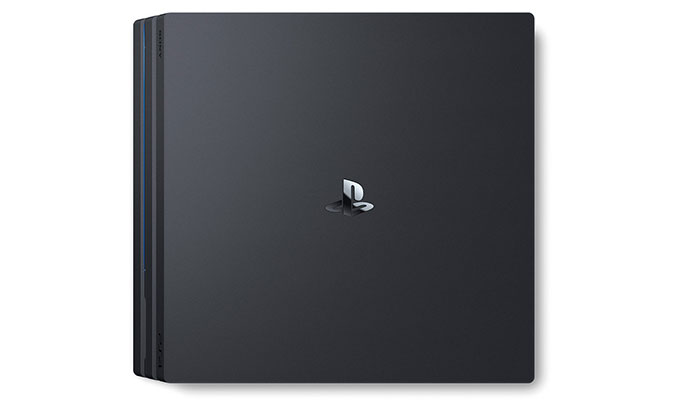 Speed
Action becomes faster, smoother and more explosive with crystal-clear movement from faster and more stable frame rates.
Next level gaming
With a 4K TV, PS4 games deliver unprecedented visual precision, such as 4K quality resolution to give remarkable clarity down to the tiniest detail*. Alongside stunningly vibrant HDR colours, your adventures will burst into life with unbelievable vibrancy.

Incredible entertainment
Stream the biggest movies, hottest TV shows and latest videos in up to stunning 4K resolution* from Netflix, YouTube and a host of entertainment apps coming soon – all with auto-upscaling for the sharpest picture possible.
Greater connectivity
Seamlessly connect and share to your gaming worlds.
*4K TV required. Outputted by graphic rendering or upscaled.
*When compared with other games consoles on the market at time of launch.
Horizon: Zero Dawn
Horizon Zero Dawn™ an exhilarating new action role playing game exclusively for the PlayStation 4 system, developed by the award winning Guerrilla Games, creators of PlayStation's venerated Killzone franchise. As Horizon Zero Dawn's main protagonist Aloy, a skilled hunter, explore a vibrant and lush world inhabited by mysterious mechanized creatures. Embark on a compelling, emotional journey and unravel mysteries of tribal societies, ancient artifacts and advanced technologies that will determine the fate of this planet, and of life itself.
A Lush Post-Apocalyptic World
How have machines dominated this world, and what is their purpose? What happened to the civilization here before? Scour every corner of a realm filled with ancient relics and mysterious buildings in order to uncover your past and unearth the many secrets of a forgotten land.
Nature and Machines Collide
Horizon Zero Dawn juxtaposes two contrasting elements, taking a vibrant world rich with beautifull nature and filling it with awe-inspiring highly advanced technology. This marriage creates a dynamic combination for both exploration and gameplay.
Defy Overwhelming Odds
The foundation of combat in Horizon Zero Dawn is built upon the speed and cunning of Aloy versus the the raw strength and size of the machines. In order to overcome a much larger and technologically superior enemy, Aloy must use every ounce of her knowledge, intelligence, and agility to survive each encounter.
Cutting Edge Open World Tech
Stunningly detailed forests, imposing mountains, and atmospheric ruins of a bygone civilization meld together in a landscape that is alive with changing weather systems and a full day/night cycle.
Tom Clancy's Ghost Recon: Wildlands
Bolivia, a few years from now...
This beautiful South American country has become the largest cocaine producer in the world. The influential and vicious Santa Blanca drug cartel has turned the country into a narco-state, leading to lawlessness, fear, injustice, and violence. The cartel is on track to becoming a major underworld power and global threat.
An all-out war is not the answer. A surgical, stealthy, lethal approach is the only way to stop the disease at its source. The Ghosts, an elite US Special Forces team, are sent behind enemy lines to wreak havoc, destabilise, and eventually break the alliance between the cartel and the corrupted government.
Facing an almighty enemy in a massive and hostile environment, the Ghosts will need to make critical moral choices and engage in tough battles to complete their mission – their grittiest and most dangerous operation to date.
BIENVENIDOS A BOLIVIA: From the infamous Death Road to the world's largest salt flat, journey through Ubisoft's largest open world actionadventure game to date. Discover massive regions inspired by Bolivia and South America, their stunning vistas and incredible diversity. Explore the hundreds of villages, landmarks, and legends populating this country in one of the many available vehicles, both on and off road, in the air, on land, and at sea. Immerse yourself in Bolivian culture as you cross paths with inhabitants reacting to their own agendas and to the game's day-night cycle and weather system.
BECOME A GHOST: Lead a team of four Ghosts, the absolute best of the US military. Play either solo or with up to three of your friends online in this gritty adventure as they seamlessly join you at any point in the game. Engage all your military missions in whatever order and manner suits you: stealth, distraction, and tactical or frontal assault always remain possible. Use the new iconic drones to recon the toughest terrains and to tag enemy outposts, or transform them into destructive weapons. Make difficult but critical choices: sabotage, interrogation, kidnapping, and assassination are but a few of the options available for you to reach your objectives. Upgrade and fully customize your Ghost with the experience and loot you gather on the battleground.
MANIPULATE AND FACE THE CONSEQUENCES: Interact with different factions in the game: gather intel from the Santa Blanca cartel, bribe the aggressive Unidad military force, benefit from the local rebels' resources, or protect the native population. Start inter-faction battles to cause distractions and help you reach your objectives. The world will react differently to each of your choices: unexpected opportunities and threats could arise from any situation, turning into long-lasting and dire consequences. Manipulate the system. Manipulate the unexpected.