PlayStation 4 Pro 1TB Console + 1 Game
PlayStation 4 | Console Hardware
R18+ - Restricted to 18 years and over
High impact sex, nudity, coarse language, drug use, themes and violence
More information
Others also bought
Product overview
This bundle contains:
PlayStation 4 Pro 1TB Console Console

Black DualShock 4 controller
1TB Hard Drive
**Vertical Stand not included**

Mafia III Deluxe Edition
Introducing the super-charged PS4.
PlayStation®4 Pro is a high-spec console that delivers the ultimate gaming and entertainment experience with spectacular graphics and unrivalled power.
Put simply, this is the most powerful console ever made *1:
Spectacular graphics – if you own a 4K TV, get ready for higher quality visuals, including resolutions of up to 4K*2. No 4K TV? You can still enjoy gameplay and frame rate enhancements on your standard HD TV with PS4™ Pro.
Ultimate performance – PS4™ Pro packs more than double the GPU power of a standard console and a beefed-up CPU to give you an incredible combination of graphical prowess and processing muscle*3.
Extraordinary entertainment – watch video streaming services in amazing 4K*4. Check out the Netflix app which allows you to stream 4K movies and shows like Narcos and Luke Cage. There's also a 4K compatible YouTube app coming soon to PS4™ Pro.
Enhanced gameplay – enjoy fast, more stable frame rates*5 for smooth, super-sharp on-screen action.
Ultimate Share Play and Remote Play – share or stream your games in stunning detail with visuals of up to 1080p and 60fps.
More connections – choose between 2.4GHz and 5GHz Wi-Fi modes and output to your TV via HDMI 2.0. There's also an extra USB 3.0 port.
High Dynamic Range (HDR) – this advanced new technology means visuals are more realistic, vivid and truer to what the human eye sees in the real world*6.
*1 When compared with other games consoles on the market at time of launch.*2 Outputted by graphic rendering or upscaled.*3 When compared to previous PS4™ model. *4 Not supported by all video services available for PS4™. *5 Not supported by all software titles. *6 HDR TV plus game or video streaming service with HDR support required.
Spectacular gaming and entertainment
Intensely vibrant gameplay, stunningly sharp movies and incredible detail in every moment.
Super-charged power
PS4 Pro packs in leading-edge technology to deliver the fastest, sharpest, most responsive gaming experiences ever seen*.

Power
Games explode into life with intense graphics and incredibly lifelike details thanks to increased power under the hood.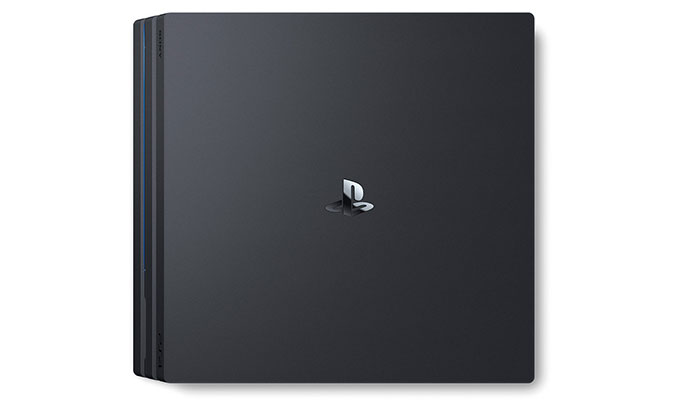 Speed
Action becomes faster, smoother and more explosive with crystal-clear movement from faster and more stable frame rates.
Next level gaming
With a 4K TV, PS4 games deliver unprecedented visual precision, such as 4K quality resolution to give remarkable clarity down to the tiniest detail*. Alongside stunningly vibrant HDR colours, your adventures will burst into life with unbelievable vibrancy.

Incredible entertainment
Stream the biggest movies, hottest TV shows and latest videos in up to stunning 4K resolution* from Netflix, YouTube and a host of entertainment apps coming soon – all with auto-upscaling for the sharpest picture possible.
Greater connectivity
Seamlessly connect and share to your gaming worlds.
Mafia III Deluxe Edition
The Mafia III - Deluxe Edition Includes:
Mafia III Full Game
Season Pass
Bonus Steelbook and Poster
It's 1968 and the rules have changed.
Mafia III is set in a reimagined New Orleans in 1968, one of the most tumultuous years in American history. This version of New Orleans is bustling with activity, complete with era-inspired cars, fashion and music. During this turbulent time, a cloud of corruption hangs in the air and the city has become a haven for organized crime. The Italian mob controls illegal gambling, drugs, and prostitution, while corrupt police and politicians line their pockets with the proceeds.
Mafia III follows the story of Lincoln Clay, a disenfranchised Vietnam veteran, returning from combat and looking for a home and a place to belong. Orphaned as a child, Lincoln at last achieves a semblance of family with the city's black mob, finding the surrogate father and brother he has longed for. But when Lincoln's new family is betrayed and slaughtered by the Italian mob, he becomes fixated on revenge and wages a brutal war against the Italians, disrupting the balance of power in the seedy underworld of New Orleans. As the story progresses, Lincoln allies himself with other criminals and builds an empire and a new family of his own that transforms the city.
Throughout the riveting story of Mafia III, players choose their path to revenge and build their own crime empire using cunning, stalking and deception, or through overwhelming force and firepower. Mafia III combines the best of cinematic storytelling with a dynamic narrative structure that responds to player choices, set in a vibrant city that responds to Lincoln's actions.
New Bordeaux: A Reimagined 1968 New Orleans - A vast, diverse and seedy open world ruled by the mob and corrupt officials and richly detailed with the sights, sounds and emotionally-charged social atmosphere of the era.
An Unintended and Lethal Anti-Hero - Be Lincoln Clay, an orphan and Vietnam veteran hell bent on revenge against the Italian Mafia for the brutal slaughter of the black mob, the closest thing to family he's ever had.
Revenge Your Way - Choose your own personal play-style, from brute force and blazing guns to stalk-and-kill tactics as you use Lincoln's military training and gathered intel to tear down the Italian Mafia.
A New Family on the Ashes of the Old - Build a new criminal empire in your own unique way by deciding which of your lieutenants you reward and which you betray...
*4K TV required. Outputted by graphic rendering or upscaled.
*When compared with other games consoles on the market at time of launch.