PlayStation 4 Pro 1TB Console + 1 Game
PlayStation 4 | Console Hardware
MA15+ - Not suitable for people under 15
Others also bought
Product overview
This bundle contains:
PlayStation 4 Pro 1TB Console Console

Black DualShock 4 controller
1TB Hard Drive
**Vertical Stand not included**

For Honor Deluxe Edition
Introducing the super-charged PS4.
PlayStation®4 Pro is a high-spec console that delivers the ultimate gaming and entertainment experience with spectacular graphics and unrivalled power.
Put simply, this is the most powerful console ever made *1:
Spectacular graphics – if you own a 4K TV, get ready for higher quality visuals, including resolutions of up to 4K*2. No 4K TV? You can still enjoy gameplay and frame rate enhancements on your standard HD TV with PS4™ Pro.
Ultimate performance – PS4™ Pro packs more than double the GPU power of a standard console and a beefed-up CPU to give you an incredible combination of graphical prowess and processing muscle*3.
Extraordinary entertainment – watch video streaming services in amazing 4K*4. Check out the Netflix app which allows you to stream 4K movies and shows like Narcos and Luke Cage. There's also a 4K compatible YouTube app coming soon to PS4™ Pro.
Enhanced gameplay – enjoy fast, more stable frame rates*5 for smooth, super-sharp on-screen action.
Ultimate Share Play and Remote Play – share or stream your games in stunning detail with visuals of up to 1080p and 60fps.
More connections – choose between 2.4GHz and 5GHz Wi-Fi modes and output to your TV via HDMI 2.0. There's also an extra USB 3.0 port.
High Dynamic Range (HDR) – this advanced new technology means visuals are more realistic, vivid and truer to what the human eye sees in the real world*6.
*1 When compared with other games consoles on the market at time of launch.*2 Outputted by graphic rendering or upscaled.*3 When compared to previous PS4™ model. *4 Not supported by all video services available for PS4™. *5 Not supported by all software titles. *6 HDR TV plus game or video streaming service with HDR support required.
Spectacular gaming and entertainment
Intensely vibrant gameplay, stunningly sharp movies and incredible detail in every moment.
Super-charged power
PS4 Pro packs in leading-edge technology to deliver the fastest, sharpest, most responsive gaming experiences ever seen*.

Power
Games explode into life with intense graphics and incredibly lifelike details thanks to increased power under the hood.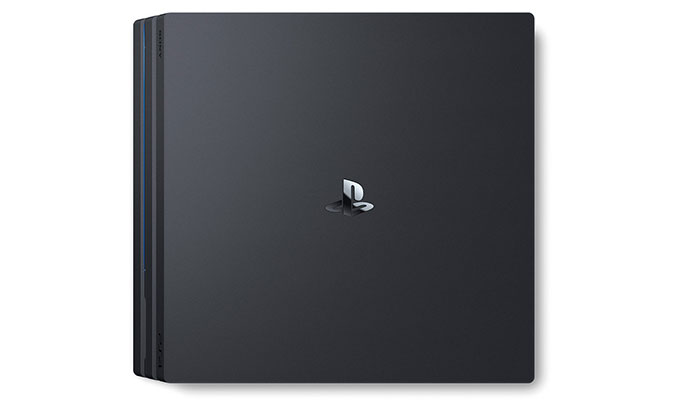 Speed
Action becomes faster, smoother and more explosive with crystal-clear movement from faster and more stable frame rates.
Next level gaming
With a 4K TV, PS4 games deliver unprecedented visual precision, such as 4K quality resolution to give remarkable clarity down to the tiniest detail*. Alongside stunningly vibrant HDR colours, your adventures will burst into life with unbelievable vibrancy.

Incredible entertainment
Stream the biggest movies, hottest TV shows and latest videos in up to stunning 4K resolution* from Netflix, YouTube and a host of entertainment apps coming soon – all with auto-upscaling for the sharpest picture possible.
Greater connectivity
Seamlessly connect and share to your gaming worlds.
For Honor - Deluxe Edition
For Honor Deluxe Edition Includes:
The Game
Game Soundtrack
Exclusive Lithography
Digital Deluxe Pack


1 Execution Mood Effect
3 helmet crests
Boost Package
Exclusive Emblem
Carve a path of destruction through the battlefield fighting for guts, glory, and survival in For Honor™, a new melee action game developed by Ubisoft Montreal in collaboration with other Ubisoft studios.
Enter the chaos of a raging war as a Knight, Viking, or Samurai, three of the greatest warrior legacies. For Honor is a fast-paced and immersive experience, mixing skill with visceral, never-before-seen melee combat.
The Art of Battle, the game's innovative control system, puts you in total control of your heroes, each with distinct skills and weapons, as you annihilate all soldiers, archers, and opposing heroes who stand in your way on an intense, believable battleground.
For Honor offers an engaging campaign and thrilling multiplayer. Enjoy the full experience online with friends or solo against AI.
UNIQUE WARRIORS TO MASTER
Choose your favorite warrior among 12 unique Heroes including deadly Knights, brutal Vikings, and cold-blooded Samurai. Able to turn the tide of battle and make their faction victorious, each Hero comes with his or her own weapon set and combat style. Express your personality and inspire fear in your enemies by customizing each facet of your warrior, including your chest, shoulders, helmet, and weapon.
MEMORABLE STORY CAMPAIGN
The memorable story campaign is a tale of warriors in which you will embody Heroes of all three factions. Storming castles and fortresses, making the difference in massive battles, and confronting deadly bosses in intense duels, you will need all your wits and skills to ensure the survival of your people and foil the plans of the merciless and bloodthirsty warlord, Apollyon.
GROUNDBREAKING MULTIPLAYER
The 5 groundbreaking multiplayer modes will test your skill and take your adrenaline to the next level. In Dominion, Skirmish and Elimination, plunge in the heart of battle with your band of warriors, coordinate and communicate to claim victory as you support your allies, slaughter enemies, and own the battlefield. In Brawl and in Duel, face your opponents in intense and brutal fights where your combat skills will make the difference between life and death.
INNOVATIVE ART OF BATTLE CONTROL SYSTEM
Wield the weight of your weapon and feel the power and impact of every strike. Precise and accessible, the Art of Battle system has been designed with the objective of putting you in total control of your combat moves.
*4K TV required. Outputted by graphic rendering or upscaled.
*When compared with other games consoles on the market at time of launch.