500GB PlayStation 4 Console
PlayStation 4 | Console Hardware
Others also bought
Product overview
Includes:

PlayStation®4 Black console
DUALSHOCK®4 Wireless Controller
Headset
AC power cord
HDMI cable
USB cable
NOTE: Stand not included
PlayStation 4
Designed by the most inventive minds in video games, PlayStation 4 will let game creators unleash their imaginations to develop cutting-edge experiences never before possible.
Ultra-fast processors, advanced graphics performance and unrivalled system memory. What does that mean for the games you'll play? They're bigger, faster, more innovative. And more than you ever imagined.
DualShock 4 - Complete Control
Interact with games in all the ways you're used to, and some you never expected. As well as more precise dual analog sticks and inbuilt motion sensors, DUALSHOCK®4 also includes touch controls and the innovative SHARE button.
SHARE button - Share the fun instantly
Use the SHARE button on DUALSHOCK®4 to share your gameplay videos and pictures in the blink of an eye. Stream your live gameplay to Ustream or record, edit and upload videos to Facebook in seconds.
PlayStation® App - Stay Connected with PlayStation
Chat with your friends, watch their latest gameplay videos and give them tips using the PlayStation® App for mobile and tablet devices.
Remote Play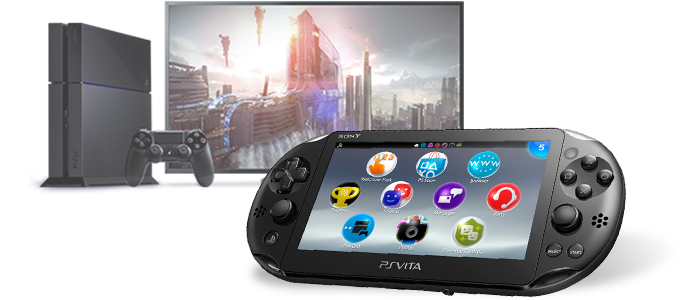 Remote Play is the amazing feature that lets you continue your game on your PS Vita without missing a beat. Using your home Wi-Fi network, you can play a whole range of PS4 games on the crystal-clear 5-inch PS Vita screen, including blockbuster titles like Killzone: Shadow Fall, and KNACK.
As long as your PS4 is switched on and the two systems stay connected via Remote Play, every feature of an amazing range of PS4 games will be available to play on your PS Vita – including any online multiplayer modes as well as the full single player storyline experience.
Video trailer
Screenshots
Reviews (28)
Summary of Member Ratings and Reviews
Key member stats:
28

member(s) reviewed this product.
Featured Review
Best Console Ever Made
Posted by
Mozness

19/03/2014 at 7:42:59 PM

I have NEVER been happier to play a games console in my life. I have owned a PS4 since launch and I LOVE IT! The PS4 is the most powerful console ever made and trumps the Xbox One in terms of graphics, pricing, and overall performance. It is a game console first though, while the Xbox One is more a multimedia hub (however half the Xbox One's multimedia content doesn't work in Australia) I cannot recommend this console enough. It's perfect for games and five years down the track this will be the console everyone has. Just like the PS2 era. Well done Sony.

Report this review
Playstation is Playstation!
Posted by
DAEMONFEAR

3/08/2016 at 2:03:11 PM

Doesn't really do much but build dust unfortunately, My Xbox One has been my home for gaming since release! But the PS4 is still a great console but I always kept finding myself going back to Xbox!

Report this review
beast !!
Posted by
DarthJaMziy

27/01/2016 at 12:04:11 AM

i loved my preownd ps4 i had it for more then a year no problems at all no compliants here

Report this review
Amazing
Posted by
Amazakii

22/12/2015 at 10:27:06 AM

It's an amazing piece of hardware that offers great graphics, performance and gameplay. It may be a console first, but offering various services is a plus and the future exclusives to come makes this console the place to game.

Report this review
IT'S AMAZING!
Posted by
ALEX M

3/07/2014 at 6:25:43 PM

I bought the ps4 a few days ago and i had wanted to write a review about it but i didn't know what to say. So here it goes... It's amazing, i haven't played the xbox one yet, which i want to, but i got my hands on it 3 days ago and it was kinda different compared to the ps3's menu. To me, i enjoyed it. Well done Sony.

Report this review
first day broke
Posted by
TheJackLC

12/06/2014 at 6:05:13 PM

Never worked from day one disappointing Sony

Report this review
PS4 Is awesome
Posted by
Caza

10/06/2014 at 7:26:43 PM

Best Console I have owned. And I have owned a few in my 20+ years. The control is really good, Fits great in the hand. Takes some time to get used to from PS3. But once you are used to how it feels. You never want to put it down. The Console its self is great. Had no problems, plays Dvds and Bluray great. Until like the Ps3 which was temperamental with Dvds. The games Load fast and there are no load times for Ps4 Games Apart from games that have Poor programming like Bound by Flame. The loading in that is fast but it lags. The Console is very powerful. It puts my PC to shame. I love playing games for hours on this thing. Great Console worth buying.

Report this review
Very good console!
Posted by
turtle48

4/06/2014 at 10:43:28 PM

So many people have made reviews on the Xbox One and the psi giving them 1 star and sagging them because they prefer the other. It's ridiculous. In saying that the psi is the best console I have used the only problem I have with it is the controllers. They are very good and comfortable but the thumbstick grips on mine started to wear within about 15 hours of non intense game play. Never the less this is a terrific console with some great games and some even better ones to come!

Report this review