This Bundle Contains:
Nintendo Switch Console - Grey
The Legend of Zelda: Breath of the Wild
Meet Nintendo Switch
Play at home
Dock your Nintendo Switch to enjoy HD gaming on your TV.
Play anywhere
Undock to seamlessly transition into handheld mode.
Play together
Flip the stand to share the screen, then share the fun with a multiplay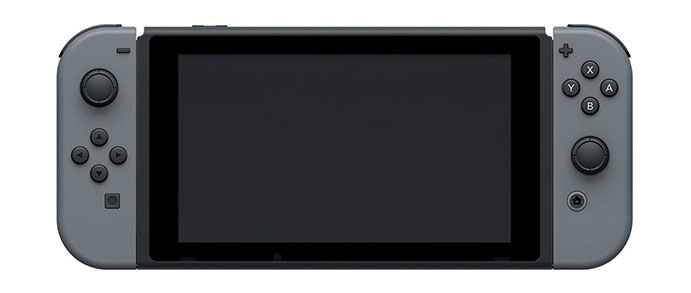 This is Joy-Con™
One controller or two, vertical or sideways, motion controls or buttons…Joy-Con and Nintendo Switch give you total gameplay flexibility.
Gaming springs into action by removing detachable Joy-Con controllers from either side of Nintendo Switch. One player can use a Joy-Con controller in each hand; two players can each take one; or multiple Joy-Con can be employed by numerous people for a variety of gameplay options. They can easily click back into place or be slipped into a Joy-Con Grip accessory, mirroring a more traditional controller. Or, if preferred, the gamer can select an optional Nintendo Switch Pro Controller to use instead of the Joy-Con controllers. Furthermore, it is possible for numerous people to bring their Nintendo Switch systems together to enjoy local multiplayer face-to-face competition.
Share the fun
Start a gaming party anytime with multiplayer games for Nintendo Switch*. Use additional Joy-Con controllers, Nintendo Switch Pro Controllers, or a combo of the two.
Compete against friends (or team up) at home.
Play online with other Nintendo Switch gamers.
Link up to eight systems together to play anywhere.
*Additional Joy-Con or Nintendo Switch Pro controllers required for multiplayer modes; sold separately. Multiplayer features vary by game; see individual games for details.
Parental controls
Keep the focus on fun by using parental controls to manage how your family interacts with Nintendo Switch.
You can manage Nintendo eShop purchases, limit sharing on social networks, restrict access to games based on their ESRB ratings, and more. A free app gives you even more choices and a handy way to manage your Nintendo Switch parental controls from anywhere via your mobile device.
Nintendo eShop
You can buy digital versions of games from Nintendo eShop on your Nintendo Switch system or from the Nintendo website.
Album
Easily take and save screenshots using the Capture Button on the left Joy-Con. Then view, add text, and share to social networks from your album.
News and announcements
Get the latest updates on game releases, Nintendo events, announcements, and more, with your free Nintendo Account.
The Legend of Zelda: Breath of the Wild
The Legend of Zelda: Breath of the Wild represents the next great boundary-breaking adventure from Nintendo. The game marks a new pinnacle for the franchise, featuring challenges and surprises for players at every turn, while giving them incredible freedom to explore the massive world found in this open-air adventure.
The Legend of Zelda: Breath of the Wild takes the franchise to new heights. As players investigate Hyrule, they can explore the game any way they want because the world is so vast and players are not required to take a pre-determined path.
Link needs to be resourceful as he explores his environment. It's important for players to become familiar with their surroundings so they can find weapons or collect them from defeated enemies. Food helps Link sustain his hearts and can give him a temporary boost or ability that will sustain him.
The game breaks with some conventions from the series. For example, many of the minor enemies are no longer scattered randomly around the world, as many now live together in colonies. Link can climb towers and massive structures to get a bearing on his surroundings. He can even reach the top of mountains – any mountain he can see, he can climb. He can paraglide to lower areas or even use his shield to slide down a mountain. Link will travel across fields, through forests and to mountain peaks.
The game's wild world surrounds Link, and he must pay attention to changes in climate, as a shift in weather or temperature can affect the environment and his ability to survive in it. A sudden downpour might douse a roaring campfire or a lightning storm might be attracted to Link's metallic weapons. Players might need to bundle up with warmer clothes or change into something better suited to the desert heat.
More than 100 Shrines of Trials dot the landscape, waiting for players to discover and explore them in any order they want. As players work their way through the traps and puzzles inside, they'll earn special items and other rewards that will help them on their adventure. Puzzles in the game often have multiple answers, and secrets can be found everywhere. Exploration and discovery are a huge part of the fun.