This Bundle Contains:
Nintendo Switch Console - Grey
Splatoon 2
Meet Nintendo Switch
Play at home
Dock your Nintendo Switch to enjoy HD gaming on your TV.
Play anywhere
Undock to seamlessly transition into handheld mode.
Play together
Flip the stand to share the screen, then share the fun with a multiplay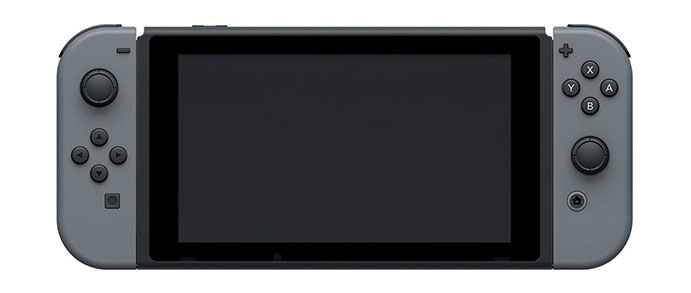 This is Joy-Con™
One controller or two, vertical or sideways, motion controls or buttons…Joy-Con and Nintendo Switch give you total gameplay flexibility.
Gaming springs into action by removing detachable Joy-Con controllers from either side of Nintendo Switch. One player can use a Joy-Con controller in each hand; two players can each take one; or multiple Joy-Con can be employed by numerous people for a variety of gameplay options. They can easily click back into place or be slipped into a Joy-Con Grip accessory, mirroring a more traditional controller. Or, if preferred, the gamer can select an optional Nintendo Switch Pro Controller to use instead of the Joy-Con controllers. Furthermore, it is possible for numerous people to bring their Nintendo Switch systems together to enjoy local multiplayer face-to-face competition.
Share the fun
Start a gaming party anytime with multiplayer games for Nintendo Switch*. Use additional Joy-Con controllers, Nintendo Switch Pro Controllers, or a combo of the two.
Compete against friends (or team up) at home.
Play online with other Nintendo Switch gamers.
Link up to eight systems together to play anywhere.
*Additional Joy-Con or Nintendo Switch Pro controllers required for multiplayer modes; sold separately. Multiplayer features vary by game; see individual games for details.
Parental controls
Keep the focus on fun by using parental controls to manage how your family interacts with Nintendo Switch.
You can manage Nintendo eShop purchases, limit sharing on social networks, restrict access to games based on their ESRB ratings, and more. A free app gives you even more choices and a handy way to manage your Nintendo Switch parental controls from anywhere via your mobile device.
Nintendo eShop
You can buy digital versions of games from Nintendo eShop on your Nintendo Switch system or from the Nintendo website.
Album
Easily take and save screenshots using the Capture Button on the left Joy-Con. Then view, add text, and share to social networks from your album.
News and announcements
Get the latest updates on game releases, Nintendo events, announcements, and more, with your free Nintendo Account.
Splatoon 2
Ink-splatting action is back and fresher than ever
Turf War - Team up in fierce 4-on-4 multiplayer battles* to see which team can cover the most turf with ink.
Salmon Run - 2-4 players* can team up for co-op fun and defeat waves of enemy Salmonids.
New weapons - Dual wield the new Splat Dualies and avoid getting splatted with the new Dodge Roll move. Mainstays like the Splat Roller and Splat Charger have been remixed to include new gameplay mechanics, and all special weapons are brand new.
Local and Online Multiplayer - In a first for the series, compete in local multiplayer Turf War battles*, whether in TV mode or on-the-go in handheld or tabletop modes. Online battles also make a return.**
New ways to play - Play with the Joy-Con™ controllers or the Nintendo Switch Pro Controller (sold separately), both of which support motion controls for better aiming.
Fresh updates - Similar to the Splatoon game for the Wii U™ console, updates will roll out post-launch, adding new content and in-game events.
Smart device support** - An upcoming smart-device application for the Nintendo Switch system will allow players to invite friends and teammates via social media to team up, as well as voice chat with friends during play sessions.
LAN Play - Up to 10 docked systems – eight players and two spectators – can connect via wired LAN (LAN adapter required; sold separately). This feature allows players to create local Private Battle tournaments without the need for an internet connection. Local wireless play is perfect for your regular gaming get-togethers, but LAN Play is where it's at when you want to organize a serious tournament.
Customize - Change your Inkling's style with different weapons, headgear, clothes, and shoes. Gear isn't just aesthetic; it offers different boosts in battles.
amiibo - Compatible with all Splatoon series amiibo™ figures. By tapping these amiibo, the figure's character will appear in the game and befriend players. Befriend an amiibo character and they will remember favorited weapons, gear, outfits, and option settings.
The squid kids called Inklings are back to splat more ink and claim more turf in this colorful and chaotic 4-on-4 action shooter. For the first time, take Turf War battles on-the-go with the Nintendo Switch™ system, and use any of the console's portable play styles for intense local multiplayer* action. Even team up for new 4-player co-op fun in Salmon Run!
Two years have passed since the original Splatoon game was released, and two years have also passed in Inkopolis! So expect a fresh wave of fashion, not to mention new weapons and gear. Dual wield the new Splat Dualies or stick to mainstays like chargers and rollers, which have been remixed with new strategic possibilities. As always, Turf War is the favored sport among Inklings, but they also dig ranked battles, taking down Octarians in a robust single-player campaign, and battling enemy Salmonids in one dangerous part-time job! No matter which way you play, splat at home or on-the-go with Nintendo Switch. Staying fresh never felt so good.
*The registration of Nintendo Account and acceptance of the Nintendo Network User Agreement and Privacy Policy are required. Broadband internet connection required to play.