Nintendo Switch Grey Console + 1 Game
Switch | Console Hardware
Others also bought
Product overview
This Bundle Contains:
Nintendo Switch Console - Grey
Monopoly for Nintendo Switch
Meet Nintendo Switch
Play at home
Dock your Nintendo Switch to enjoy HD gaming on your TV.
Play anywhere
Undock to seamlessly transition into handheld mode.
Play together
Flip the stand to share the screen, then share the fun with a multiplay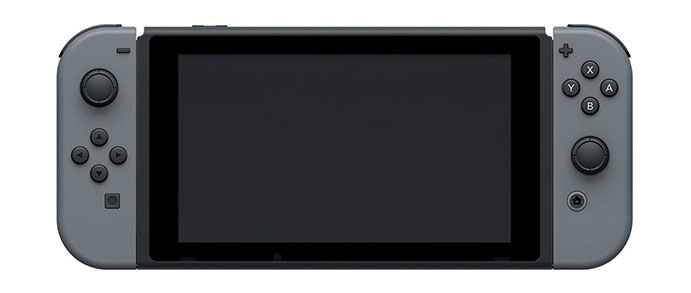 This is Joy-Con™
One controller or two, vertical or sideways, motion controls or buttons…Joy-Con and Nintendo Switch give you total gameplay flexibility.
Gaming springs into action by removing detachable Joy-Con controllers from either side of Nintendo Switch. One player can use a Joy-Con controller in each hand; two players can each take one; or multiple Joy-Con can be employed by numerous people for a variety of gameplay options. They can easily click back into place or be slipped into a Joy-Con Grip accessory, mirroring a more traditional controller. Or, if preferred, the gamer can select an optional Nintendo Switch Pro Controller to use instead of the Joy-Con controllers. Furthermore, it is possible for numerous people to bring their Nintendo Switch systems together to enjoy local multiplayer face-to-face competition.
Share the fun
Start a gaming party anytime with multiplayer games for Nintendo Switch*. Use additional Joy-Con controllers, Nintendo Switch Pro Controllers, or a combo of the two.
Compete against friends (or team up) at home.
Play online with other Nintendo Switch gamers.
Link up to eight systems together to play anywhere.
*Additional Joy-Con or Nintendo Switch Pro controllers required for multiplayer modes; sold separately. Multiplayer features vary by game; see individual games for details.
Parental controls
Keep the focus on fun by using parental controls to manage how your family interacts with Nintendo Switch.
You can manage Nintendo eShop purchases, limit sharing on social networks, restrict access to games based on their ESRB ratings, and more. A free app gives you even more choices and a handy way to manage your Nintendo Switch parental controls from anywhere via your mobile device.
Nintendo eShop
You can buy digital versions of games from Nintendo eShop on your Nintendo Switch system or from the Nintendo website.
Album
Easily take and save screenshots using the Capture Button on the left Joy-Con. Then view, add text, and share to social networks from your album.
News and announcements
Get the latest updates on game releases, Nintendo events, announcements, and more, with your free Nintendo Account.
Now is time to own it all on Switch!
Choose your living board: Your city lives and evolves! Invest in charming neighbourhoods with strong unique personalities, and watch them prosper in front of your eyes as you progress!
Play anytime, anywhere: Thanks to the Nintendo Switch, you can now enjoy Monopoly wherever you want! Play at home on your TV screen or on-the-go in table top mode, and feel the dices as if they were in your hand!
Your game, your rules: Play the way you want by selecting one of the 6 official House Rules chosen by MONOPOLY® fans from around the world! The Speed Die mode is also available to make you progress faster around the board.
The more you play, the more you win: Take on new challenges and win rewards!
Challenge yourself online: Find other players online and challenge them in quick matches, or in customised sessions choosing your way to play! Try to get at the top of the leader board and be the one to own it all!
Your favorite family board game is coming to Nintendo's new console! Discover amazing lively 3D boards, exclusive tokens and many surprises! Trading your way to success has never been so fun!