Nintendo Switch Grey Console + 1 Game
Switch | Console Hardware
PG - Parental guidance recommended
Others also bought
Product overview
This Bundle Contains:
Nintendo Switch Console - Grey
Has-Been Heroes Game
Meet Nintendo Switch
Play at home
Dock your Nintendo Switch to enjoy HD gaming on your TV.
Play anywhere
Undock to seamlessly transition into handheld mode.
Play together
Flip the stand to share the screen, then share the fun with a multiplay
This is Joy-Con™
One controller or two, vertical or sideways, motion controls or buttons…Joy-Con and Nintendo Switch give you total gameplay flexibility.
Gaming springs into action by removing detachable Joy-Con controllers from either side of Nintendo Switch. One player can use a Joy-Con controller in each hand; two players can each take one; or multiple Joy-Con can be employed by numerous people for a variety of gameplay options. They can easily click back into place or be slipped into a Joy-Con Grip accessory, mirroring a more traditional controller. Or, if preferred, the gamer can select an optional Nintendo Switch Pro Controller to use instead of the Joy-Con controllers. Furthermore, it is possible for numerous people to bring their Nintendo Switch systems together to enjoy local multiplayer face-to-face competition.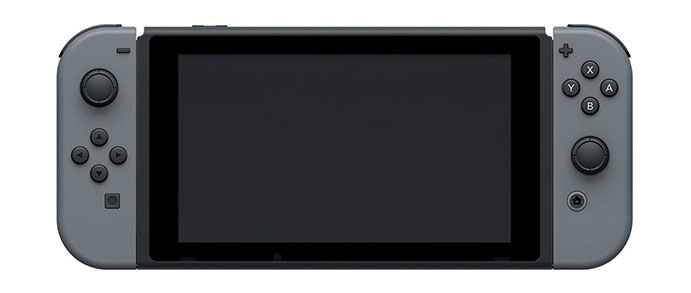 Share the fun
Start a gaming party anytime with multiplayer games for Nintendo Switch*. Use additional Joy-Con controllers, Nintendo Switch Pro Controllers, or a combo of the two.
Compete against friends (or team up) at home.
Play online with other Nintendo Switch gamers.
Link up to eight systems together to play anywhere.
*Additional Joy-Con or Nintendo Switch Pro controllers required for multiplayer modes; sold separately. Multiplayer features vary by game; see individual games for details.
Parental controls
Keep the focus on fun by using parental controls to manage how your family interacts with Nintendo Switch.
You can manage Nintendo eShop purchases, limit sharing on social networks, restrict access to games based on their ESRB ratings, and more. A free app gives you even more choices and a handy way to manage your Nintendo Switch parental controls from anywhere via your mobile device.
Nintendo eShop
You can buy digital versions of games from Nintendo eShop on your Nintendo Switch system or from the Nintendo website.
Album
Easily take and save screenshots using the Capture Button on the left Joy-Con. Then view, add text, and share to social networks from your album.
News and announcements
Get the latest updates on game releases, Nintendo events, announcements, and more, with your free Nintendo Account.
System details
System battery life
Battery life can last for more than six hours, but will vary depending on the software and usage conditions. For example, The Legend of Zelda™: Breath of the Wild can be played for roughly 3 hours on a single charge.
Internal memory
32GB of internal memory, a portion of which is reserved for use by the system. Users can easily expand storage space using microSDXC cards.
Screen
6.2-inch, multi-touch capacitive touch screen; can display a resolution of 1280 x 720.
Has-Been Heroes
Has-Been Heroes is a challenging game of strategy and action, where the player controls three characters across three lanes, and must learn to combine hundreds of different spells for different combo effects.
A combination of turn-based and RTS game mechanics featuring easy-to-learn basics that are tough to master and evolve into frantic complexity.
Filled with unlockables that will keep the game fresh each time including 300+ spells, 200+ items, 14 regions, and 12 heroes.
Each run is different, and with each level the length of gameplay increases, compounded by the peril of instant death, which forces the player to start over from the beginning.
The game takes advantage of many of the unique features of Nintendo Switch – from the controller's innovative linear vibration mode to the ability to seamlessly go from console to portable while never stopping the adventure.
Has-Been Heroes is a challenging, rogue-like game of strategy and action, featuring a band of heroes on a quest to escort the King's twin princesses to the Princess Academy. The player controls three characters and must focus on combining hundreds of different spells to create devastating combo effects that can be used against enemies along the way. The rewarding, strategy game features irreverent humor, expanding world maps and increasing levels of difficulty. Players will stay focused and engaged in the gameplay as the quantity and randomness of spells and items allow for thousands of new experiences and will force the player to change their game style each time, while the specter of permadeath could cause the player to lose everything!
STORYLINE
The teeth of time chew on even the bravest of champions, and there comes a time when wizened
old mages and warriors are just one last adventure away from retirement. Thankfully, a young rogue joins the heroic Has-Been Heroes, for who else can read the tiny text on those potion bottles and assist the "rusty" crew?
The rogue comes along not a moment too soon, for King Fortinbrax has summoned his oldest, most trusted heroes for a final, epic quest. The heroes must escort the twin Princesses Avaline and Beatrix to a faraway Princess Academy - but the road is long and fraught with peril.
Video trailer
Screenshots