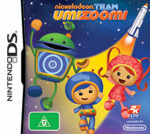 Team Umizoomi
ADD TO CART
Out of Stock
Product overview
Team up with Milli, Geo and Bot on a mighty maths adventure in their first Nintendo DS game! Use Pattern Power, Super Shapes, and your Robot Computer to construct a submarine, rescue seahorses, and return missing rocket parts to the Astronaut Center! With you on their side, Team Umizoomi can do anything!
Zoom around in UmiCar as you explore the Playground, Aquarium, and Astronaut Center!
Use mighty maths powers to complete over 25 exciting missions!
Practice maths skills like counting, sorting, matching, identifying, sequencing, adding, subtracting, dividing, measuring, and comparing.
Kid-tested and designed in collaboration with education experts for maximum fun and learning!