Nintendo 2DS Blue + 2 Games
Nintendo 3DS | Console Hardware
PG - Parental guidance recommended
Others also bought
Product overview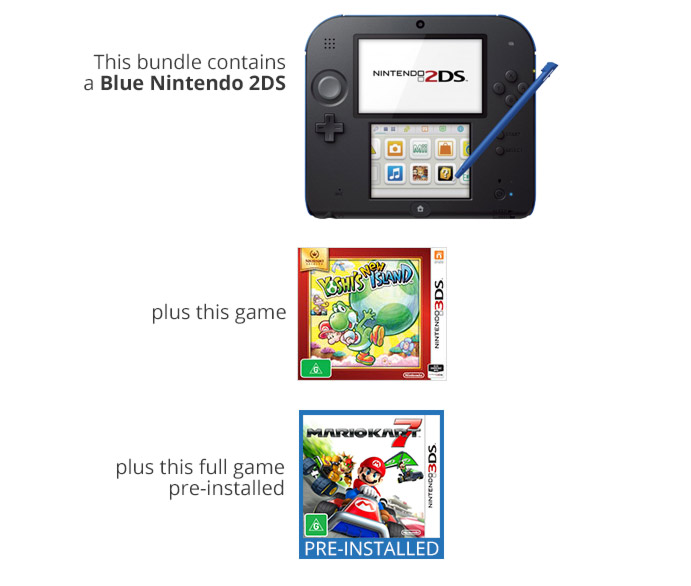 Bundle contains:
Nintendo 2DS Blue
Yoshi's New Island
Mario Kart Pre-installed on console
Nintendo 2DS Console
Designed for your family
The new Nintendo 2DS system gives you all the features of the Nintendo 3DS and Nintendo 3DS XL, minus 3D viewing. And the price makes the world of Nintendo games even more accessible.
Compatible with all Nintendo 3DS and most Nintendo DS games.
Wireless connectivity for multiplayer and co-op play.
Access to the Nintendo eShop, with digital games, free demos, and special offers.
Parental controls that let adults manage the system's content.
What's in the box? All you need to play right away.
Nintendo 2DS
Nintendo 2DS stylus (inserted into the system's stylus holder)
SDHC Card (inserted into the system's SD Card slot)
Nintendo 3DS AC adapter
AR Cards
Mario Kart 7
The newest installment of the fan-favorite Mario Kart™ franchise brings Mushroom Kingdom racing fun into glorious 3D. For the first time, drivers explore new competitive kart possibilities, such as soaring through the skies or plunging to the depths of the sea. New courses, strategic new abilities and customizable karts bring the racing excitement to new heights.
The Mario Kart franchise continues to evolve. New kart abilities add to the wild fun that the games are known for.
Players can show their own style by customizing their vehicles with accessories that give them a competitive advantage.
People can choose to race as one of their favorite Mushroom Kingdom characters or even as their Mii™ character.
New courses take players on wild rides over a mountain road, on city streets and through a dusty desert. Nintendo fans will recognize new courses on Wuhu Island and in the jungles from Donkey Kong Country™ Returns.
The game supports both SpotPass™ and StreetPass™ features.
Players can compete in local wireless matches or online over a broadband Internet connection.
Yoshi's New Island
An Island Egg-venture Starring Yoshi
The third installment in this beloved franchise makes its way to the Nintendo 3DS system.
Yoshi's New Island keeps the series' fun game-play mechanics, such as Yoshi's Flutter Jump, Ground Pound and Egg Throw, while also offering new abilities. For example, use the giant-sized Mega Eggs to destroy objects, obtain coins and reveal hidden doors.
Using the Nintendo 3DS system's gyro sensor functionality and the new binocular ability, players can move the system around to uncover hidden areas as well as better aim Mega Egg throws.
Throughout the game, different worlds feature a variety of art styles, including oil, watercolor and crayon.